Rubber Products for Traction Stock
All products have certificates of conformity.
Rubber products for rolling stock
Rings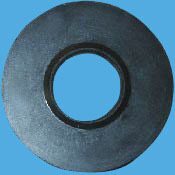 Sealing rings of circular section are intended for sealing of hydraulic, fuel, lubricating and other devices.
VP RTT offers you rubber rings made of
Heat-resistant rubbers (+200°C and above),
Oil-resistant rubbers,
Frost-resistant rubbers with a temperature range of performance up to -60°C.
Rubbers with high resistance to accumulation of residual strain (deformations).
Rubbers with a wide range of hardness.
We offer all kinds of rubber rings for fixed and mobile joints (connections).
Sealing Rings

Sealing rings are used to seal shafts and other devices operating in various corrosive environments: oils, diesel fuel and high-temperature water, acids, alkalis, salts, different solvents.
Oil Seals
Oil seals are rubber products that are used to seal gaps between stationary (fixed) and rotating parts, to protect against penetration of oil during the shaft's rotation. The main objective of its design is to grease the valve stem, while avoiding excessive penetration of oil into the combustion chamber.
Production of the whole range of rubber parts is carried out in accordance with the requirements of ND.
At customer's request we can manufacture any rubber products with preliminary study of mold designs, technological preparation (selection of materials, rubber composition, etc.), if the customer provides us with the technical requirements for products.
You can purchase rubber products at the following contacts:
We review orders in accordance with the preliminary written applications.
VPRTT LLC (ООО "ВП РТТ")
Address: Russia, Volgograd Region, City of Volzhskiy, Aleksandrova Street 85A.
Phones: (8443) 45-45-00, (8443) 45-45-01.
E-Mail: vprtt@yandex.ru
Contact Person: Krivobokov Vadim Valerevich, Executive Director
We review orders in accordance with the preliminary written applications.